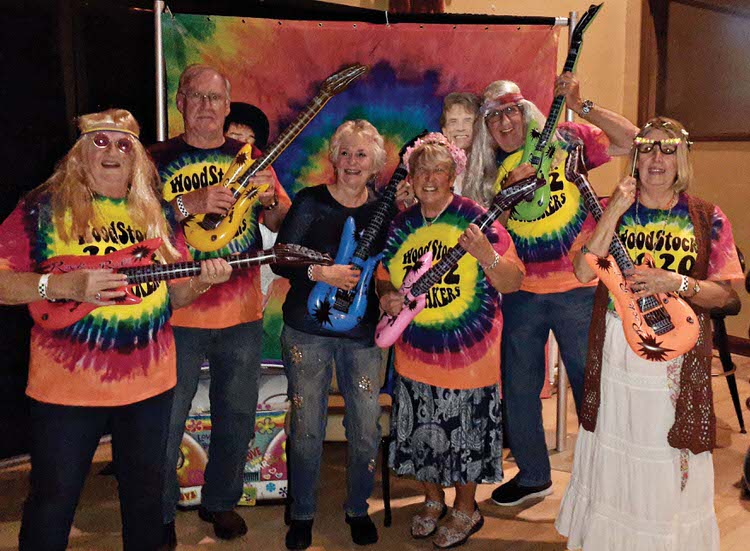 Bob and Vickie Bybee
Everyone had a great time at the Woodstock Party in January. We had the Lip Sync Contest, which was won by Debbie Bernhart, aka Tina Turner, and then had three hours of music and dancing. The Jan. 20 Dance Party was also a great time for everyone. The March Dance Party will be on Thursday, March 17, in the San Tan Ballroom in Cottonwood, with music by Thaddeus Rose. There will be two events in March for the Fun Lakers. The first is Game Day on Sunday, March 13, and the second is the Golf Cart Rally on March 26. The date has been changed for Fun Lakers Game Day (it was previously scheduled for March 5). It will be from noon to 4 p.m. at Sisk Park in Palo Verde. Come join the fun! Try your skills at Junk in the Trunk, Cookie Drop, Separation Anxiety, or Free Throws, to name a few. The Arizona weather will be perfect for a day at the park. Lunch is included in the admission price, so come on out and compete for prizes. BYOB and lawn chairs. Admission is $20 for members and $25 for non-members. Register online at Funlakers.org or pay at the gate. No athletic ability is required. For the Golf Cart Rally, grab your golf cart and create a team, drive along a given route to answer questions, and play games along the way—50 carts max.
It's the time of the year when the Fun Lakers start recruiting for the 2022-23 board of directors officers, various chair and vice chair positions, and event volunteers. Our nominating committee is looking to identify new board prospects to bolster our organization and continue learning about and supporting our members' needs. You must be a member in good standing, and we can help you join or update your membership status as needed. If you are interested, you will first get a phone call and then meet with the nominating committee for a brief chat. Keep in mind, we can't teach you to smile and have fun. You have to smile before you apply. And we won't recruit smart and energetic people and then tell them what to do. We want smart and energetic people to help guide our club with fun and workable ideas. Remember, there is no pain in asking for more details regarding openings and needs. Volunteer leadership opportunities range from setting policy to managing a single event for a small group to managing large events like the Christmas Party. Please reply with a request for more information, and make sure we have your correct contact information. You can visit us at www.funlakers.org to see what we are doing and request more information.
Euchre meets on the first and third Tuesdays of the month, and Mexican Train every Monday evening at 6 p.m., in the Cottonwood Game Room.