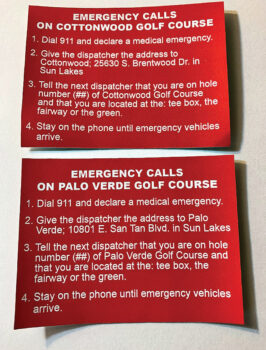 Lorri Morgan, CWPV Golf Committee
A near disaster was averted on Palo Verde golf course in January. A gentleman was golfing/walking when he had a heart attack. Luckily, a fellow golfer was able to perform CPR and save his life. In this situation, we all want the red lights and siren to zero in on the emergency ASAP. We can help with that. At Cottonwood and Palo Verde, we have decals available, and everyone should stick them on their carts. The most important detail is the address of the Pro Shop. Score cards also list the Pro Shop address.
If you need to call 911, declare a medical emergency and give the dispatcher the address of the Pro Shop. Just the name of the golf course is only going to complicate things. Your call will be transferred to another dispatcher (Phoenix Fire Department Regional Dispatch Center, which handles calls for 28 different agencies in the greater Phoenix metro). Give this new dispatcher the Pro Shop address again and state which hole you are on and whether closer to the tee box or the green. The engine or medical vehicle isn't necessarily from the Sun Lakes stations and, therefore, might not be familiar with our golf courses. Addresses are everything. The fire department computer mapping can match a street address of a hole, adjacent to the green or tee box, but must first be sent to the right neighborhood. Stay on the phone with the dispatcher, who would be able to talk you through administering CPR if necessary. But wouldn't it be better if you already knew how? It is much easier now that the practice is only compressions and does not include rescue breathing. Make the effort to educate yourselves or call the fire department and request some training for your clubs or communities.
Thanks to Brian Curry for the information!