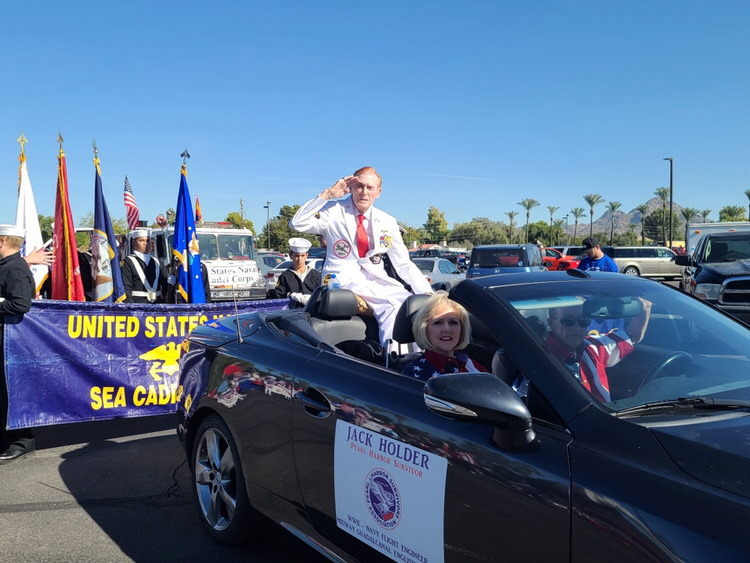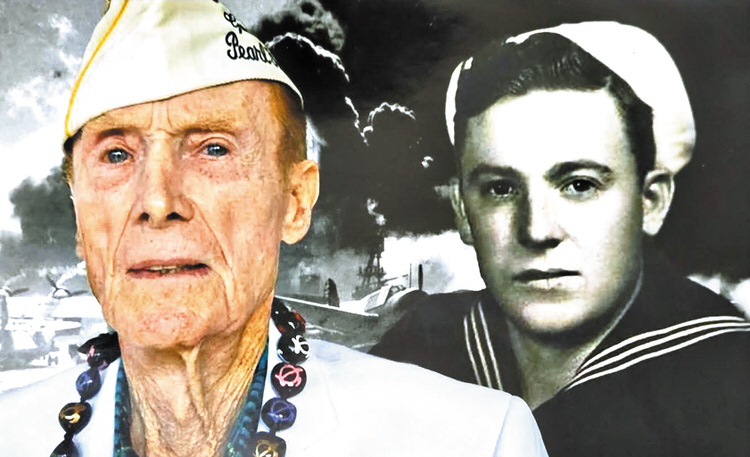 Joseph "Jack" Norman Holder of Chandler, Ariz., a World War II Pearl Harbor survivor, passed away peacefully at the age of 101 after a brief illness, on Feb. 23, 2023, with his dear friend Darlene Tryon at his side.
The son of World War I veteran John and Margaret Holder, he was born in Gunter, Texas, in 1921 and raised on a farm in Proffitt, Texas, with his parents in a small, four-room house built by his father during the Great Depression. Jack had no other siblings.
He completed the 8th grade and continued to help his family out on the farm. Hoping to rise above it, Jack set his sights on flying. The inspiration came from his maternal uncle who was a pilot on a crop-dusting plane. In April 1940, at age 18, Jack enlisted in the U.S. Navy. Following Boot Camp and Aviation Machinist School, he was transferred to Pearl Harbor, Hawaii, as a member of the PBY (Patrol Bomber Y) Squadron. Roughly one year to the day later, that Hawaiian paradise turned into pandemonium for all.
Jack was on duty at Ford Island on Dec. 7, 1941, when the Japanese attacked Pearl Harbor. "I can still see images of the 2,403 Americans who were killed and 19 U.S. Navy ships destroyed or damaged that day," are words Jack often spoke during his presentation as he traveled around the United States to ensure that we never have to relive such a catastrophic event again. A day that will live in infamy …
Following the attack, Jack flew in well over 100 U.S. Navy missions in World War II, including the infamous 1942 Battle of Midway, Guadalcanal and all the Salomon Islands, the English Channel, and Bay of Biscay on the West Coast of France.
In 1948 Jack received an honorable discharge and took with him the following military distinctions: Distinguished Flying Cross, with 1 bronze stars; Air Medal, with 9 Strike/Flights; Combat Action Ribbon; Navy Good Conduct Medal, 1 bronze clusters; American Defense Ribbons; Europe-African-Middle-East Ribbons, with 2 bronze clusters; Asiatic-Pacific Ribbons with 3 bronze clusters; Navy and Marine Presidential Unit Commemorative Ribbon; Navy Battle Efficiency Award Commemorative Ribbon; WWII D-Day Commemorative Ribbon; WWII Victory Commemorative Ribbon; Airborne and Air Assault Commemorative Ribbon; Overseas Services Commemorative Ribbon; Sea Service Commemorative Ribbon; Navy Commemorative Ribbon; Honorable Discharge Commemorative Ribbon. He is also known for helping to form VB-103 and the new B24 Squadrons.
Post military, Jack spent over 25 years on corporate and commercial aircraft, from mechanic onto becoming a pilot. During his days of flying, he took time out to become a pro golfer for two years. Jack is also known for forming Texco Oil Company, of which he was the board chairman and president. He really was a "Jack" of all trades.
Jack also authored his own book, Fear, Adrenaline, and Excitement, which is still available through his friend Darlene Tryon. It tells of his life as he saw it in vivid detail.
Mentoring youth and military personnel was always a passion of his, which he continued with through involvement with veterans' groups and causes. He was active in charitable and political organizations, as well as had a private pilot's license. His last flight was on Dec. 13, 2022, his 101st birthday, when he took to the skies over the Superstition Mountains with Mike Doyle, Tony Anger, and Ben York.
Jack was preceded in death by both of his parents and his wife Carleta Holder. He leaves to cherish his memories his loving friends. In lieu of flowers, please consider donating to an account, which will be set up in his name to carry out his final wishes. If you would like to make a donation in memory of Joseph Norman Holder, please visit the Tribute Fund on the Red Mountain Funeral Home website www.redmountainfuneralhome.com/obituaries/Joseph—Norman—Holder?obId=27493242#/celebrationWall.
Memorial services will be held on April 14, 2023, at 1 p.m. at Cornerstone Church, 1595 S. Alma School Road, Chandler, Ariz., with a Celebration of Life to follow on-site. Arrangements are being planned by Darlene Tryon, [email protected].
You may visit www.redmountainfuneralhome.com/obituaries to express your condolences and final memories. Also please share this memorial page to your own social media page in order that the world will never forget the hero Jack Holder lived to become at 101 years old.
MSgt (Ret) Darlene Tryon will transfer Jack's final remains to Arlington National Cemetery, Va., where he will be entombed with full Military Honors at a later date.