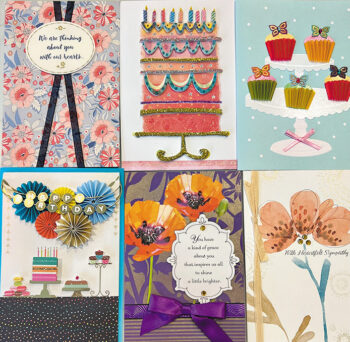 There's something special about receiving a greeting card. With phones, it's so easy to call, email, or text someone, but it's still fun to open that mailbox and get a "real" card. Crystal Cards "recycles" used greeting cards, making them into beautiful, unique cards for every occasion. Take time to shop for cards at one of our sales and surprise a friend or family member the old-fashioned way by mailing them a greeting. All cards are just $1, and it all goes to My Sister's Place, a domestic violence facility.
Upcoming sales:
April 5 at the Cottonwood San Tan Ballroom from 10 a.m. to noon, as part of Java with Jean
April 12 in the Bradford Room of the Oakwood clubhouse from 9 a.m. to 2 p.m.
April 18 at Sun Lakes Country Club from 11 a.m. to 1 p.m.
Everyone is welcome to join us at our workshop in the Ceramics Room at Cottonwood on Wednesday, April 26, from 1 to 2:30 p.m. More information about Crystal Cards can be found on our website, www.thecrystalcardproject.org.