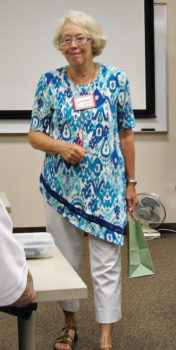 Catherine Hammond
This spring, New Adventures, a lifelong-learning program affiliated with Chandler-Gilbert Community College, offers nearly 100 classes and events for members who live in the Southeast Valley of the Sun. Classes for the semester continue until April 24, 2020. Presenters, often members of the group, may be experts in the field or people with a more general interest in the various topics.
Dozens of classes are still available in March and April. Some deal with topics of current concern. Gary L. Dickinson shares information derived from 35 years in pain management practice in "Understanding the Opioid Crisis," and Roberta Reed, a chemistry Ph.D., discusses "The Surveillance State—Who's Watching You Now." In retirement, she "continues to share science and the value and use of data."
Other presenters look to the past. Colonel Jim Evans shares "Lawrence of Airpower: T.E. Lawrence AFTER Arabia;" Mary Kenny introduces "Archaeology for Beginners." Several classes explore personal creativity. Examples include "Personal & Exploratory Writing" by Gretchen Berning and "Greeting Cards with Simple Paper-Crafting Techniques" by Judy Gielniak.
These offerings only hint at the variety of topics available this semester. Registration has been simplified online to make it easier to find classes. Below are the new categories as listed at the registration website www.NewAdventures.info for classes offered this semester:
* History/Politics/Culture
* Military History
* Literature/Language/Writing
* Music/Art
* Science/Math
* Technology/Computers
* Health/Nutrition/Fitness
* Legal/Financial
* Fun/Games/Crafts
* Travel
* Special
* Discussion/Book Groups
* Off Site
* Movies
New Adventures in Learning is a membership organization that has been encouraging lifelong learning since 1998. For further information, find the group on Facebook, call 480-857-5500, or visit the Sun Lakes Center at 25105 S. Alma School Road, Sun Lakes, AZ. Online registration for open classes along with fee payment remains available at the New Adventures' website. Annual renewal of membership is also conveniently online.