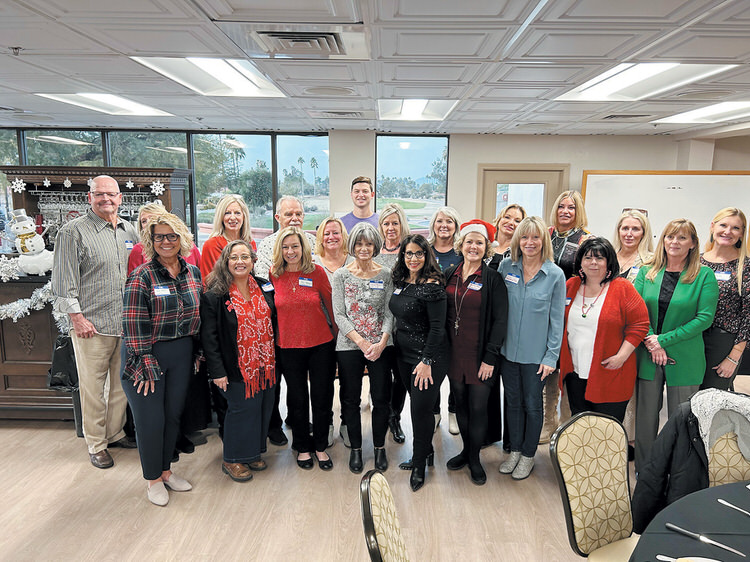 On Dec. 21 a newly formed alliance of Sun Lakes realtor companies partnered with Neighbors Who Care to host a lovely holiday luncheon for 50 Neighbors Who Care clients at Cottonwood's Saguaro Room. Each guest was offered transportation to attend, a delicious lunch, a gift for each person, and treats for the holiday spirit.
The realtors participating as Realtors Who Care include Jodi Berge, Mary Kay Hobby, Suzy Steinmann, Sarah Anderson, and Ben Polland of Redeemed Team; Keith Carter and Liz Taran of DeLex Realty; Jim Campbell, Bruce Goetz, Denise Herrero, Kathy Reiser, and Charlee Young of Young Home Team; Patricia Curtis of HomeSmart; Patricia Duffy of Cactus Mountain; Joelle Green of Locality Real Estate; Renee Greene, Jac McCracken, and Lisa Pizzuti of Built By Referral Realty; Joan Hammond of HomeSmart; Diane Haver of West USA Realty; Jennifer Herrera of Get Your Nest Inc.; Trish and Carey Kolb of The Kolb Team; Alec Lastovica of Barrett Real Estate; Maria Myer of Realty Executives; and Stephanie Reynolds of eXp Realty.
Other helpers included Marla Calley and Kori Kenny from Premier Title; Allen Fredrickson from VIP Mortgage; and Sheryl Keeme from Neighbors Who Care.