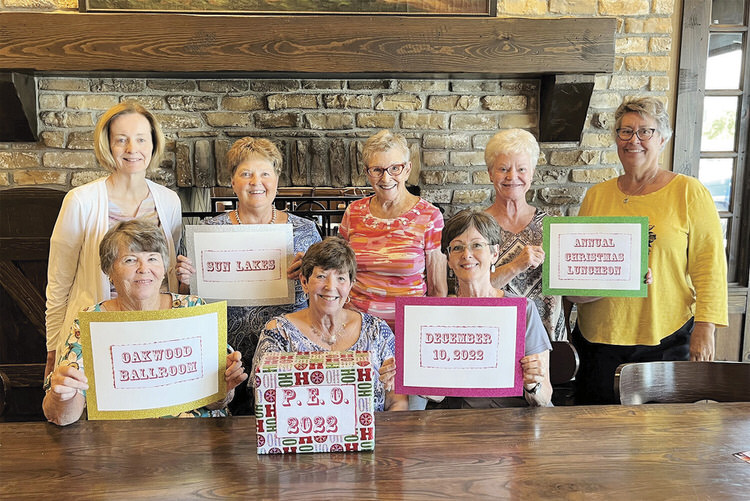 Linda McConnell
Sun Lakes Chapter EN will host the annual P.E.O. (Philanthropic Educational Organization) Christmas Luncheon on Saturday, Dec. 10, in the Oakwood Country Club ballroom in Sun Lakes. The theme for the event is 'Tis the Season for Sharing … Love, Laughter, Hope, and Joy. All chapters, groups, visiting P.E.O.s, and guests are warmly encouraged to attend!
Reservations are required, with a deadline of Dec. 6. The cost is $28 per person. To reserve a seat, please mail a check made out to P.E.0. Chapter EN to Linda McConnell at 8902 East Stoney Vista Drive, Sun Lakes, AZ 85248. One check per chapter/group is encouraged, with a printed list of attendees. P.E.O. members are encouraged to wear their personal chapter name badges. For questions or further information, call 602-909-1251.
On Saturday, Dec. 10, doors open at 10:30 a.m. with chapter vendor sales, purchase of raffle tickets for elegant gift baskets, and pictures with Santa on your personal cell phone. Lunch will be served at 11:30 a.m., followed by music/entertainment provided by Sam the Piano Man, aka Sam Luse. Closing remarks and raffle basket drawings will follow.
P.E.O.'s mission is to celebrate the advancement of women; educate women through scholarships, grants, awards, and loans; provide stewardship to Cottey College in Nevada, Mo.; and to motivate women to achieve their highest aspirations.
Come share in the season at the Sun Lakes annual P.E.O. Christmas Luncheon!