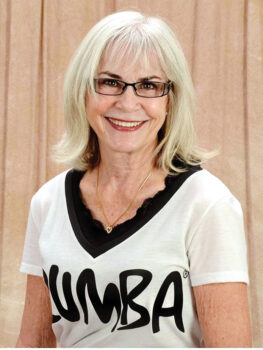 Mary Tyree
My classes are back, exclusively at Cottonwood Palo Verde Fitness Center.
It's time to be creative and meet the ever-changing needs of a COVID environment. With that in mind, I am meeting that challenge, so that we all can continue to keep a healthy Sun Lakes lifestyle.
All classes are still $5. No advanced registration is needed. Drop-ins are welcome. Cottonwood Palo Verde residents will have priority if classes reach the near-full capacity.
Join me as we stay in shape Tuesday, Wednesday, and Thursday afternoons with these terrific offers.
If you attend Tuesday and Wednesday at regular price, you are eligible to attend the Thursday class for just $3.
For those couples who wish to attend, your classes will be just $8 when you attend together (a savings of $2 each class).
It's time to kick COVID and get back to that healthy lifestyle we all enjoyed in the past. We have all been away from Zumba for a while, so this is a good opportunity to slip back into the routine again.
So, what are you waiting for? You'll have loads of fun, burn lots of calories, and meet some great friends. You can start out slowly and work into the routines. No experience required. There is no pressure to keep up. We will lighten the routines slightly and make certain we drink plenty of water.
We are practicing safe distancing in all classes; masks required. Here is my official schedule:
Cottonwood Palo Verde Fitness Center
* Tuesday, 2 to 3 p.m., Zumba Gold
* Wednesday, 3 to 4 p.m., Zumba Gold
* Thursday, 2:30 to 3:30 p.m., Zumba Gold
* No classes Nov. 25 and 26. Happy Thanksgiving!
You can find me on the web at marytyree.zumba.com or under licensed instructors on Zumba.com. You also may email me at [email protected] or give me a call or text at 480-250-9702.
See you soon.